WARNING!!!
Do NOT Hire Any Long Island Magician That Does Not Meet The Following Criteria…
The sad fact is that there are many Long Island New York entertainers that are not very good and simply not appropriate for your event! Why risk making a mistake and ruining your event…Make sure that the entertainer you hire meets all of these very important standards to help ensure your event is a success and not a total bust!
Hiring the right magician is an important part of planning your a party…and it can also be quite stressful.
How do you find the right match for you? How do you know who to trust? Where do you go for advice?
First of all, this is not an easy task and it's totally normal for party planners to feel overwhelmed, frustrated or confused.
It's not like you plan a party every day! This is all probably brand new to you, so be patient with yourself.
A few tips for finding the right Long Island NY area magician for you…
Do Your Homework. You'll get a lot more out of a quick chat with a professional magician if you do a little background homework first. Take a few minutes to search the internet and talk with your friends who've recently had a party with entertainment.
Google reviews & Facebook groups can also be great places to get other people's recommendations.
Get a ball park range for what professional magicians charge in your area. Just keep in mind that, when it comes to hiring professional party entertainment, you really get what you pay for.
Have a brief conversation. A brief phone conversation is the best way to interview a potential party magician. During your chat, you'll get a preview of their personality, style and professionalism.
Ask Questions. There are no stupid questions! Make sure you get clear answers to your questions. If you aren't sure what something means, ask for clarification. The best magicians understand the importance of your special event and will be happy to walk you through the process and help you make the best choices for the celebration.
Get answers to these 7 must ask questions BEFORE booking a magician…
"The 7 Most Important Things To Know Before Hiring A Long Island Magician!"
1. Is one entertainer as good as another?
No, absolutely not! This is a big misconception in the entertainment industry. With so many new paid advertisements out there how do you know who is truly qualified to handle your special event. Many entertainers in the NY Tri-State area are part-timers or amateurs just trying to make some extra money along with there every day 9-5 job. When your party has to be great, you want someone who is dedicated and the most experienced, hands-on entertainer you can find. Why risk disappointment with an entertainer who just works week-ends for extra money or doesn't do the required number of shows for the experience needed to be capable of handling your venue. Big or small.
Ask yourself: what are you looking for in an entertainer? If the entertainer only has experience performing for adults, and you need someone who is experienced with children, it would not be a good decision to choose that entertainer. Do not be mislead, it is not true that anyone can do a few tricks and successfully entertain kids with magic and comedy. These days it is difficult to entertain an audience for 15 minutes let alone a 55. You want an entertainer that is experienced in the type of performance you are looking for.
Ask yourself: Do you really want a "Jack of all trades?". If you are looking for someone who can provide you with a full 45 to 60 minute comedy magic show then you need someone who specializes in performing comedy magic shows day in and day out. Sure there are performers who do magic as a hobby but ask yourself this. Would you call a lawyer to fix your leaking roof? NO! The same goes in the entertainment industry. Someone who might be great at dancing in a character costume does not automatically make them someone who is capable of providing you with an entertaining comedy magic show that everyone will love. Make sure you book someone who specializes in that field not a "jack of all trades".
Ask yourself: Do you really want to book a performer who is just starting out or someone with more than ten years experience? With so many fly by night performers, you are sure to find tons of entertainers with very little experience. Lack of experience equals children's lack of interest in the show. Effectively entertaining an audience is no easy task. Your best bet is to make sure you are booking someone who has many years of experience. When your party has to be special avoid booking some one who is just starting out! I have been performing since 2010 and in 2013 I broke the Guinness World Record for the Fastest Sleight of Hand with a deck of playing cards!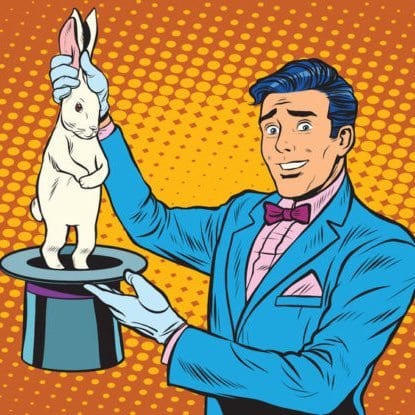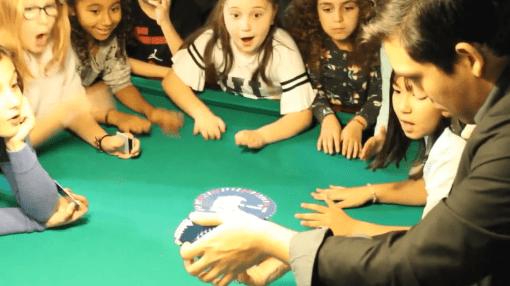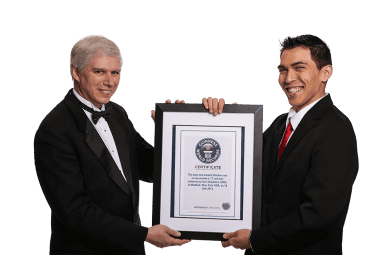 2. Is the entertainer that offers the lowest price the one you should hire?
This may or may not be true. The prices offered to you might not be for the services that you want.
One Long Island kid's birthday magician may offer a show for $350, while another may offer a show for $125. If you choose the cheaper entertainer, it does not necessarily mean that you save two hundred and twenty five dollars.
There is a saying; you get what you pay for, and by choosing the cheaper entertainer you are possibly getting lower quality entertainment.
It is always better to pay a little more to ensure that your event will be a success and that you will be completely satisfied rather than paying less and being disappointed. I am one of the higher priced options and I offer payment options.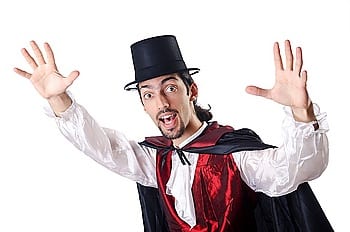 3. Does the performer provide a stage back drop, music and a portable sound system in his show?
Every performer (even at a home birthday party with only 10 kids) should always use a back drop, music and an adequate sound system to ensure that you are getting the most for your money.
Having a stage back drop adds a theatrical effect to the entertainment and shows your guests that you hired a true professional. It also helps make all photos taken look more vibrant and colorful.
Music will enhance every live performance. When was the last time you watched a movie or a Broadway show that did not have music? Imagine how much less entertaining your favorite Broadway show or movie would be with out music. Everyone loves music!
An adequate sound system does not mean a little department store boom box. Every professional show should come complete with professional sound system and microphone in every performance. A group of 15 or more excited people will easily drown out the voice of a single performer. Your guests will enjoy the show ten times more if they can hear what the performer is saying. Not to mention children have very short attention spans and it is easy to loose them if they can not hear the performer over any background conversations. I always bring my professional sound system with music and my beautiful theatrical backdrop to every event I perform my magic show.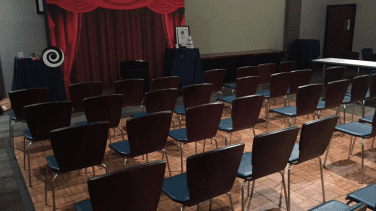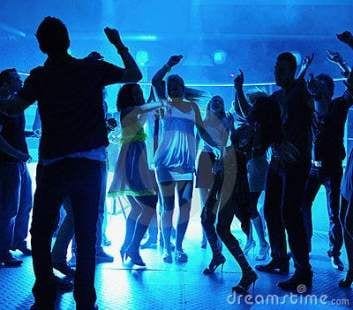 4. Can the performer give you testimonials of what other people thought of their performance?
Testimonials are simply what other clients said about the performance. Although the information given by the entertainer is most likely true; ask for testimonials. If they are unable to provide tons of these, then that is an indication that they are not a serious and/or quality entertainer. I have a whole page of testimonials that is linked below:
https://www.AmazingIvan.com/testimonials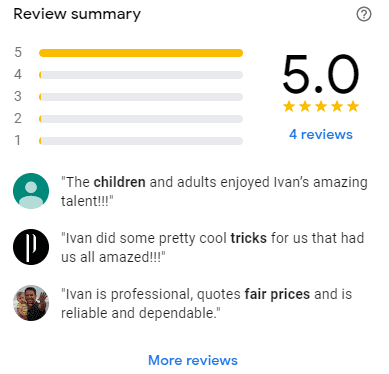 5. Does the entertainer guarantee the satisfaction of his client?
Most magicians in NYC, Brooklyn, Queens and Long Island do not guarantee their performance in writing; therefore, if you are not completely satisfied with the performance, you are left having to pay for a substandard service.
Any magicians that does not give you a guarantee in writing may not be able to live up to their promise that they can provide you with an amazing performance. Any entertainer that guarantees in writing their performance is a top-notch, quality entertainer, guaranteed! Booking a show that comes with a 100% Satisfaction Money Back Guarantee means you booked someone who really knows what they are doing and someone that you can count on. Otherwise they would never offer such an exclusive guarantee!
I only want to be paid if I've exceeded my clients expectations which is why I always offer a 100% Satisfaction Money Back Guarantee.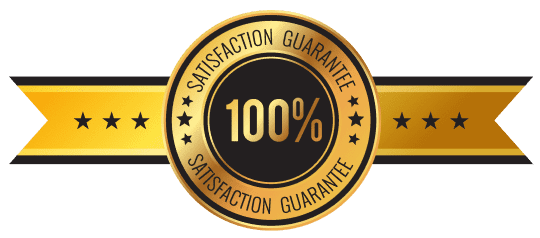 6. Is the entertainer bold enough to offer Awesome BONUSES?
Any entertainer who provides not only an amazing show, but a ton of cool bonuses, is sure to be an entertainer that you can really count on.
I offer my clients 2 levels of bonuses. Fist, each package has it's own bonuses. Like the magic show comes with a free magic souvenirs for each person. The mingling magic includes special sleight of hand customized for your event. The magic workshop comes with a free 1-on-1 virtual magic lesson for the guest of honor.
Then, there is the 2nd layer of bonuses each client recieves no matter which package they choose. These bonuses include free magic themed invitations & decorations, magical gifts for the guest of honor, party planning guides x4, new client welcome kit, a free photographer and more!
7. Does the entertainer really like people?
Believe it or not there are magicians in Long Island who really don't like people and sometimes during the performance it shows. This question relates to question number 1. Unfortunately there are magicians that specifically perform just to fill in their schedule and make extra money. Not because they love people and performing! That is where the problem starts.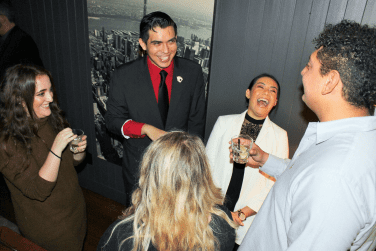 By having the answers to these questions you can make an informed, intelligent decision. Again, if you just want any Long Island Magician, there are plenty of them. But if you desire a quality sleight of hand artist that offers unique entertainment that is fun, audience appropriate, unforgettable, and will make you look great, guaranteed… then I invite you to call me at (631)988-5996 but the best way to reach me is through my contact form here, and I'll contact you. No pressure, I just want to answer any questions you may have.
Thank you for your time, and I look forward to helping you make your next event the best ever!